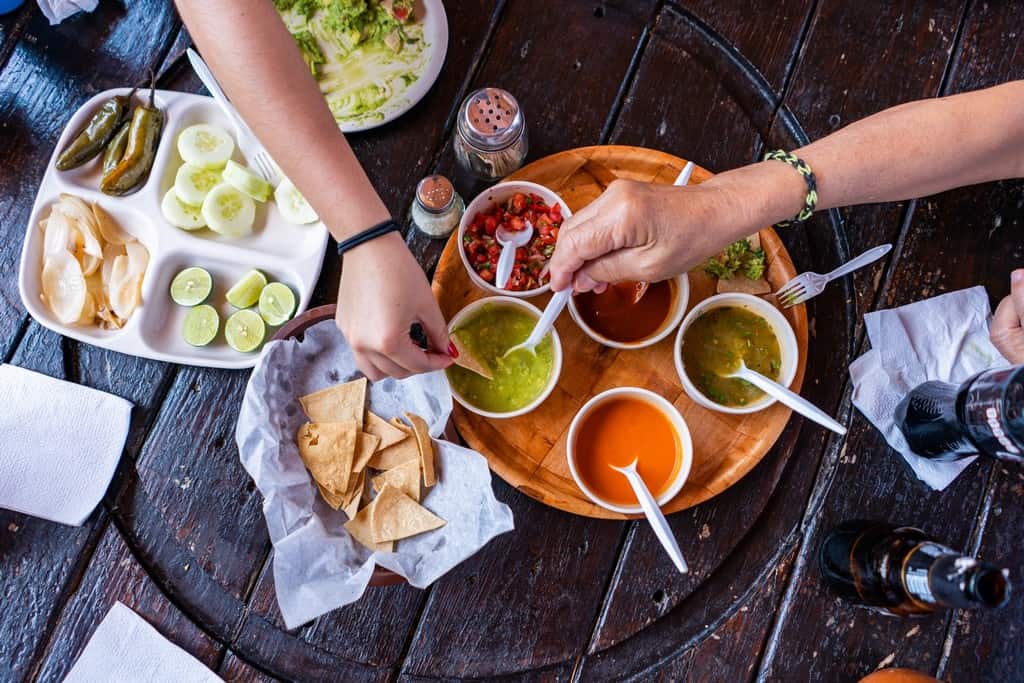 9 Most Common Food Mistakes People Make On Vacation and How To Avoid Them
Live with no excuses and travel with no regrets. Isn't it true? Going on a holiday trip? Of course, you will be ever ready with the tickets and dresses. But what about food?  Indeed, people don't follow their healthy eating habits and diet to their vacation places too. Travel would keep your mind fresh but can make your body tired inside and out. If you get compromised with the quality of food and in your diet, you would be suffered from bloating and digestion issues.
Recommended: Try this Meal Plan if you're unsure and busy in Life.
1. Skipping Your Meal
People may forget to take their meals when they are too much engrossed in enjoying their vacation or having an exciting adventure or sightseeing the beautiful places. If you don't have your meals on time, it will lead to a decrease in your blood sugar level. This unhealthy eating habit will ruin a day in your enjoyment in the vacation.
Be sure that you are eating a healthy breakfast during the vacation days, especially when you are in a traveling mode. It is not applicable in case you are following any diet. There will be some situations when you can't find a place to place your orders for a healthy breakfast. To avoid such things, always load your backpack with the following list
Fruits such as apples, bananas, and oranges
Organic milk boxes will be useful for a few days without keeping in its refrigerator.
Low sugar and high fiber-filled protein bars
Nut butter packets
2. Not Consuming Enough Water
When you are too busy enjoying the seawater during the vacation, it's pretty much normal not to have to drink enough water for a day. It's indispensable for a human to stay in a hydrated condition. Water in the body will do the following in functions,
It helps in the transportation of nutrients and oxygen to the cells
It helps in maintaining of easy digestion of food and keeps you energetic.
It removes waste material from the body.
It indeed has no calories and even helps in reducing the weight of a person.
It's another responsibility is the regulation of body temperature and in balancing the electrolytes such as sodium in the body.
3. Changes in Sleeping Routine
You won't be in control of your sleep schedule if you are on vacation. The time changes in the new place, loud noises, and a party in the hotel will not do justice to your sleep. Even a person can't sleep and can't adjust themselves right away in a new place.
Sleep deprivation in a night will lead to a person to eat extra 385 calories than the average one in the next day.  Make yourself comfortable as much as possible to get a peaceful sleep. Remember, if you don't get your rest right, you can enjoy your vacation well.
4. Drinking Excess Alcohol
It is entirely reasonable for some people to drink alcohol during vacation days as you don't have any works or responsibilities for some days. But it is recommended to go for low-calorie beverages such as vodka with soda water and lime along with over high-calorie drinks mixed with juices, syrups, and other sweeteners.  If you want to have fewer hangover effects such as headaches, always drink a cocktail with a glass of water.
Recommended: 6 Easy to Make and Delicious Vegan Dinner Recipes.
5. Overeating All The Foods
Traveling during the vacation provides many choices like cruise ships. Resorts, etc. They offer exclusive food items with an unconditional offer. It's also full of beverages, any time services to the room. We may feel trapped under this spell.
According to a report, a person should eat 80 percent of nutritious food and remain 20 percent is for some indulgence food items. On vacation, you will be following the reverse of this 80/20 rule. During this situation, it is recommended to try to keep yourself focussed and enjoy your meal with its taste, aroma. Then you will satisfy and full even you have consumed it less.
6. Wrong Choice of Food at The Airport
The wrong choice of food did not happen only in the land of vacation. But sometimes it starts within the Airport itself. People cannot overcome this thing while traveling to their destination. Avoid taking packed chips or any other juices to control your hunger.
Pick your food, which is high in both protein and fiber content such as whole wheat turkey wrap or hummus and veggie cup. It helps to maintain a healthy appetite and average blood sugar level during the travel time. The high nutritious content in these foods would help you to feel full while traveling.
7. Consuming Undercooked Eggs or Meat
We used to cook food to destroy the microorganisms present on it. The vacation days will do something against this. You will be craved for something undercooked food just by indulged by its aroma or appearance. It will cause the microorganisms to invade your body and make you sick. Try to taste the food before consuming it entirely.
8. Usage of Unclean Containers
It is normal to pack your children's food while you are traveling for a vacation. When you packed your foods in contaminated containers or boxes, you are making a blunder mistake. You should store the packed food items in high-quality containers instead of using low quality or plastic containers.
9. Consuming a Lot of Spicy Foods
If you consume many tasty food items, it will be enjoyable but won't be good for your health on vacation. Draw a limit to yourself for the consumption of these delicious items. Instead, you can go with fresh fruits, vegetables along with grilled chicken or fish foods too.
Travel is the best thing for mental health, and No one wants to get sick physically on vacation. So whether you are going on an air trip or road trip vacation, always follow the things mentioned above to enjoy your vacation healthily. Also, you can return to the home safe and sound.