Best Nutritional Yeast Substitute – Ultimate Guide
Introduction:
Nutrition and proper diet is the core concern for all of us. So some useful things help you to reach to have a healthy diet.
To add a cheesy, nutty flavor and taste in your food, go for using nutritional yeast substitute. It will bring a happening taste in a variety of your dishes. It is highly nutritious and dairy-free. Favorably it is our vegan substitute or nutritional replacement. Is not it? However, it is readily available in your local grocery shop. But many times, if you do not find the nutritional yeast in your next shop, you should go for a nutritious yeast substitute. Best Nutritional Yeast Substitute is rich with Protein, Vitamin B like Riboflavin, Niacin, Thiamine, Vitamin B6, and Vitamin B12. It has minerals like Zinc, Selenium, Manganese, Molybdenum.
There are some best nutritional yeast substitutes available in the market, which really warms your taste buds and takes care of your nutrition daily. They are Brewer's yeast, Parmesan cheese, Soy sauce, Pulverized cashews, dried mushrooms, and chickpea flour, etc. You can go online to buy this, and it will be delivered at your home, which saves your time from the busy schedule.
Recommended: Why is it so hard to lose belly fat in adults?
Those alternatives are for the best nutritional yeast substitute. So, let's not waste time and discuss the list of products available in the market.
1.

Brewer's Yeast: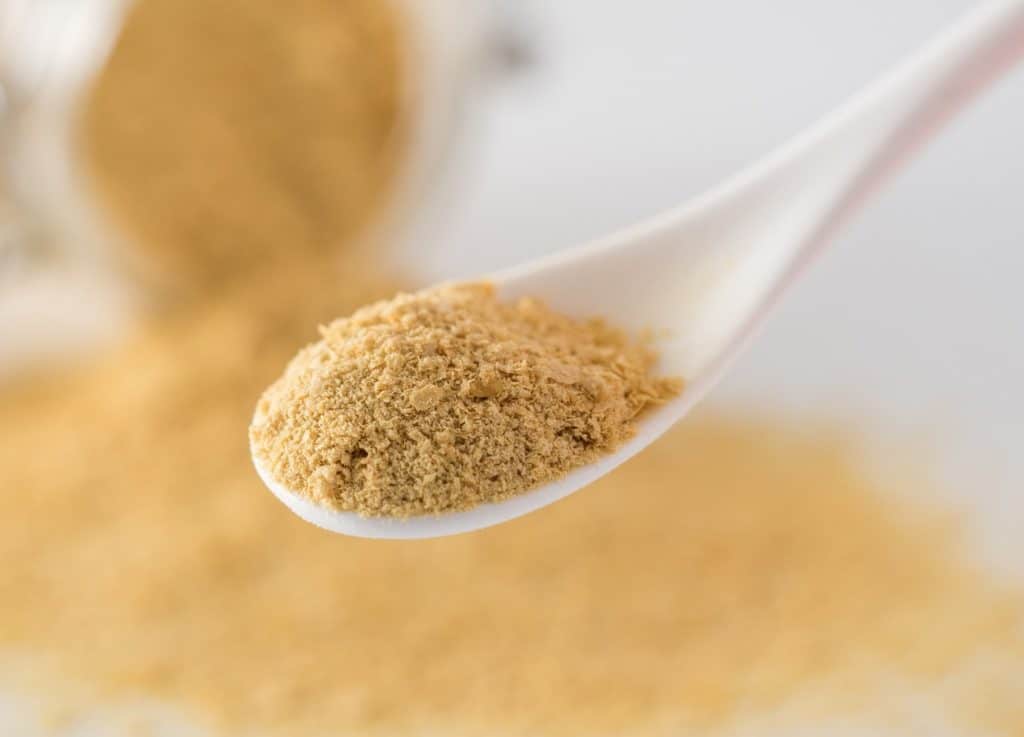 For beer and bread-making, yeast is a key element. But you can use Brewer's yeast for a substitute. It comes from a single cell organism named Saccharomyces cerevisiae. It tastes bitter. It has ample of chromium, selenium, protein, iron, potassium, zinc, iron, magnesium, and vitamin B (B1, B2, B3, B5, B6, B7, B9). Firstly it maintains blood sugar levels, proper digestion, increases energy level, and builds the immune system. Brewer's yeast gives energy and helps to keep our body healthy like hair, skin, eyes, and mouth. It increases the level of the immune system and the nervous system. This yeast can help to control the sugar level by chromium.
People can get this in powder, liquid, or tablet form. You can use this yeast substitute by mixing with food, water, shakes or juice, etc. Doctors use this product through medicine for diabetic patients. One to two tablespoons daily is the dosage for the adult patient. When you use Brewer's yeast as a replacement of nutritional yeast, then you will feel a little different smell in your recipe. As your recipe needs, add two tablespoons of Brewer's yeast for each tablespoon of nutritional yeast. One more thing is it contains galactagogue, and surprisingly, it helps to make more breastmilk. In breastfeeding, Brewer's yeast considers as the best nutritional supplement, increases the production of breastmilk.
Pros:
Effectual to prevent diarrhea
Use for treatment of digestive tract like bowel problems, colitis, etc.
It gives energy
Help to keep beautiful skin, hair, eyes, and mouth
Keep the nervous system healthy
Increases breast milk
Cons:
Brewer's yeast can interrelate with another type of medicine. So, consult with your doctor while taking Brewer's Yeast.
Some side effects can arise like bloating, massive gas, headache, etc.
Many times it may cause some chest pain, throat or chest stress, allergic situation.
Vitamin B present in it but the lack of vitamin B-12 may cause anemia.
Very often it may cause diarrhea, respiratory infections, influenza.
2.

Parmesan Cheese: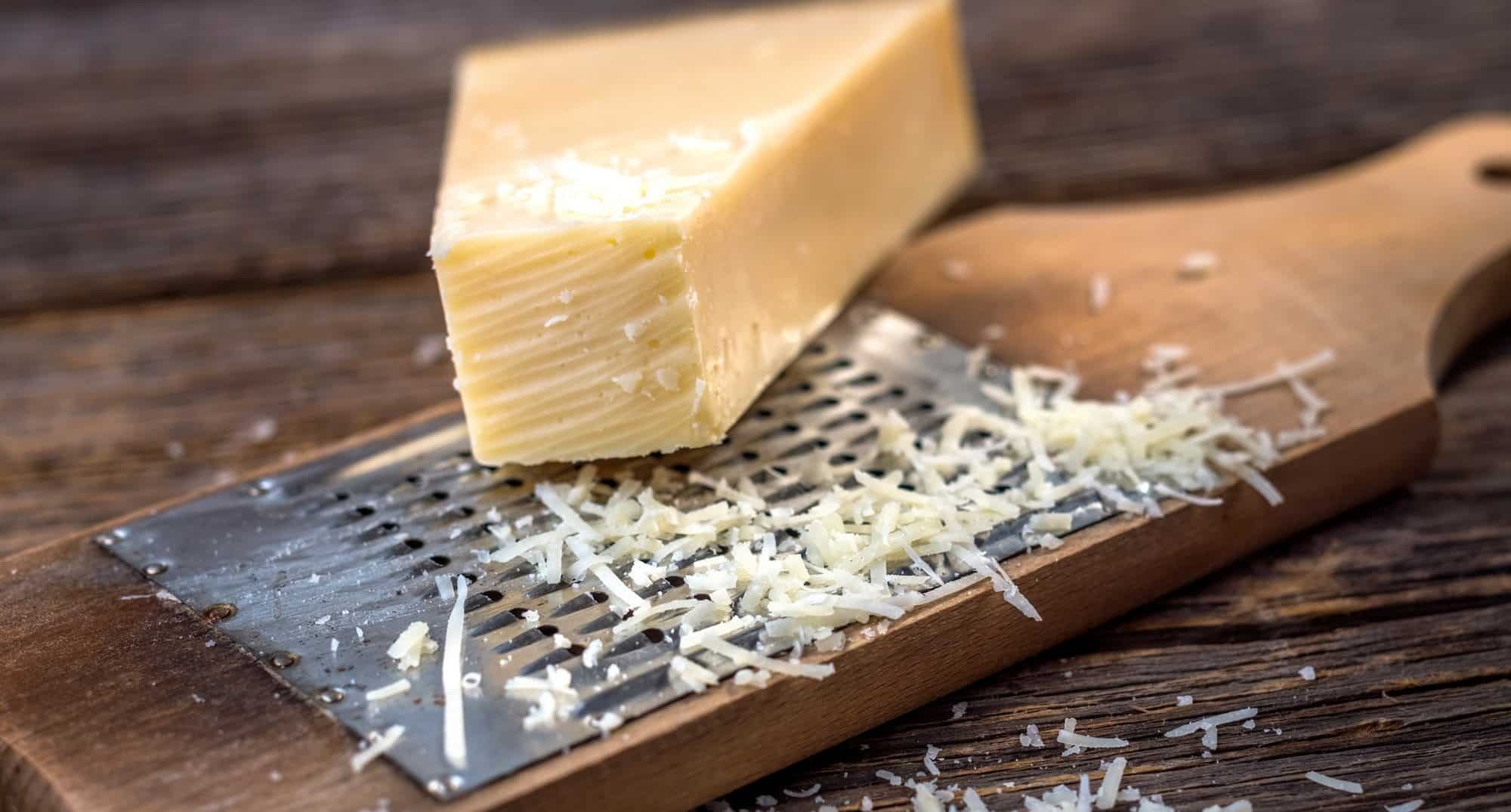 Like others, this type of cheese is used as a replacement or substitute for yeast. This name comes from the provinces from which it is made. They are similar to Reggio Emilia, Modena, Mantua, Bologna, Parma. The cheese is hard and powdery in texture and tastes like fruit or nuts. Many times it feels bitter. Italian cheese, Parmigiano Reggiano, or parmesan cheese is made up of unpasteurized cow milk. It stays in the highest pick among some cheeses manufacture by many producers. Though it is made up of cow's milk, PDO designation says that it can be produced by fresh grass and hay. Eat the parmesan cheese by grating over pasta or soups.
Cellulose powder and cheese culture are not available in this product cause these are illegal for its production. The intake of this product is harmless because it is low in fat, carbohydrate, and lactose. A person with diabetes can take this easily and digest it usually. It contains protein, calcium, fat, and some vitamins (VitA, B6, B12). One more thing for Parmesan users, please note that it is available in the market in a plastic shaker. 1:1 ratio is followed when replacing a nutritional yeast with Parmesan yeast.
Pros:
Properly used by medical ground
A diabetic person can take this with food
It is the leading source of protein and fat
Highly presence of calcium, it is helpful for bone and osteoporosis prevention
Those people who have a problem to take dairy products, they usually use it.
Cons:
Consult your doctor while taking this
Not available in the nearest grocery shop, only buy it online with the best quality and price.
3.

Soy Sauce: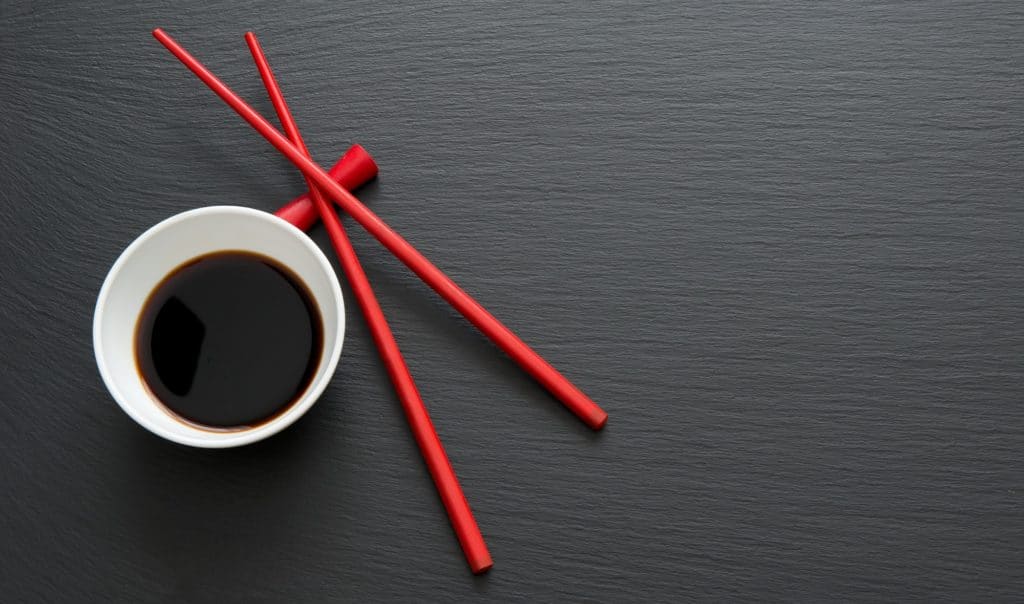 Soy sauce is eventually used for the nutritional yeast substitute that comes from china. It is made by fermenting soybean, grain, brine, molds like Aspergillus oryzae or Aspergillus sojae and salt. Soy sauce has a resemblance to the flavor of nutritional yeast.
Take an important note here; a half tablespoon of soy sauce is replaced by one tablespoon of nutritional yeast. All-time used in less quantity in your tasty food. This product has a powerful and strong flavor.
It contains a high amount of sodium and a low amount of nutrients. It uses to marinate meat and vegetables, give color to noodle dishes, and served as a dipping sauce in the restaurant for its sweetness.
Pros:
Its flavor is very nearest to the nutritional yeast
For its strong flavor, use in less quantity in your food
Contains a high amount of sodium
Cons:
It is harmful to health when using a large number
Nutrients available in low amount
The high amount of salt is present, so before use consult with a doctor who has high pressure
Some soy sauce contents alcohol, so one can get drunk by taking it
4.

Pulverized Cashews:
One another yeast nutrient substitute is this cashew. You can try to use this with your food. Its nutrition will not be the same. It is the best origin of vitamins like B12. Its flavor is more or less similar but not similar to nutritional yeast substitute.
Like nutritional yeast, it is dense and liquid soluble. It gradually mixes with the liquids. It has a resemblance to nut or seeds. Moreover, you can also use pulverized cashews as a powder.
Pros:
Pulverized cashews are used to reduce blood pressure
Contains vitamins which help to reduce heart disease
Cons:
High intake of this may increase cholesterol which is very much harmful to health
The nutty texture contains high protein
Consult with a doctor before use
5.

Dried Mushrooms:
Now we will discuss another option that is a dried fungus with nutritional yeast substitute. It has a strong flavor. It looks like hard. So, if you use it with your food, then use a blender. By blending it, you can easily use it.
Ordinary fresh mushrooms are available in the market when we can get dried mushrooms. Fresh mushrooms are cheaper than dried mushrooms. You can make various preparations using fresh dehydrated mushrooms. But in my personal opinion, the dried mushroom has specific characteristics.
They provide lovely flavor and texture. When you make some fish sauce or fish sauce substitute, then it is used as a nutritional replacement. Please keep dried mushrooms in a refrigerator. It lasts for a week or more than a week. Dried mushrooms are unique among all since they offer you with an earthy flavor with vegan dishes.
Pros:
When the fresh mushroom is not available in the market, then you may use dried mushroom.
It is processed so that you can preserve it in a refrigerator for a few days.
Cons:
It is quite expensive
It smells different from nutritional yeast substitute
6.

Chickpea Flour: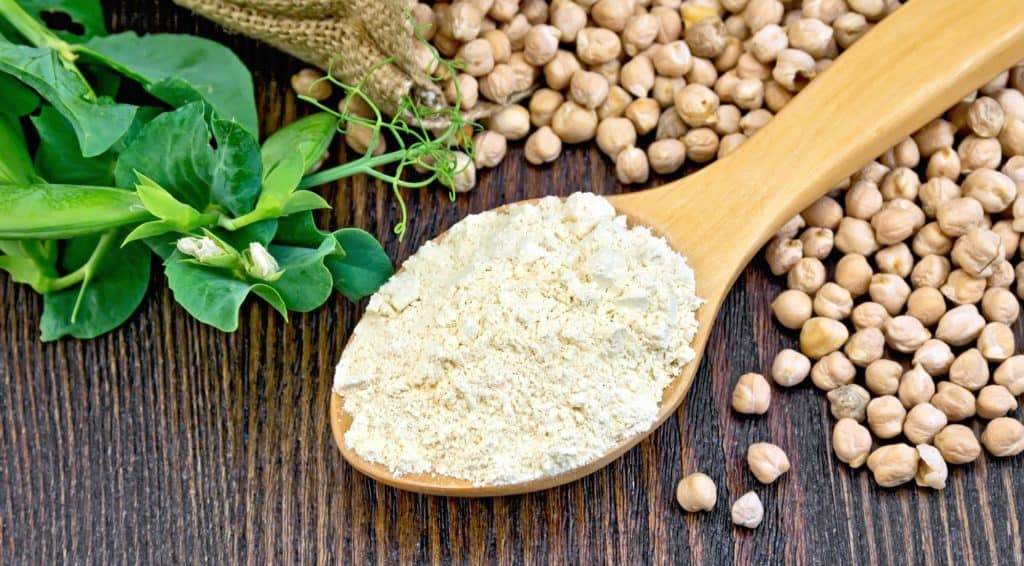 Like all other nutritious yeast substitutes, you can try with Chickpea flavor. This flour can be found in the Asian and Eastern markets. However, you can make it at your home quite easily by using the dried chickpeas. Within ten minutes, you make it gives extra flavor to your soup, stew, and sauces. Let you know how to use it with your food. A few tablespoons of chickpea flour mix with a couple of tablespoons of lukewarm water. Otherwise, you can take water from the tap also. For thickening mix with the soup and take it. Chickpea flour also adds a good flavor combined with protein. One more thing, use it as a replacement of regular wheat flour, which is probably used in our kitchen. Because of its strong flavor, take ¾ cup of chickpea flour in spite of 1 cup of regular flour. It has a fur better nutrient level than normal wheat flour. This type of flour contains vitamins, minerals, fiber, and protein. Wheat allergy can be reduced by using this. It contains vegetable cellular fiber, which is a good thing.
Pros:
A good substitute for regular grain flour
Contains high vitamin, mineral, fiber, and protein
It bakes quickly
As it contains both protein and fiber, it may cause weight loss
Great food for diabetic persons
Cons:
Contains some lousy cholesterol so that the cardiovascular disease may arise
It may cause digestive problems with bloating and gas
During baking, the bad flavor comes out
Conclusion:
Now, at this time, it is quite natural to find fantastic nutritional yeast substitute for making tasty food. Well, I understand that this list must be exhaustive for you to go through. However, now you have the option to choose the best by reading this article.
You can read this as your guideline. For those who are finding an excellent substitute for nutritional yeast, here is your answer!! It is indeed a great vegan alternative to cheese. This is the list of the best replacement and how to use it to increase your taste. I suggest buying this online.
Just note that this list is not preferences. Then what are you waiting for!!!
You can go through smoothly, it all reaches to your needs at the end.