Blue Light Blocking Glasses
We all are spending our lives around electronics, we know about the side effects of this lifestyle on our health very well. And the most critical issue using electronics continually is that it leads to Eye problems. Eyes are the most delicate part of the Human Body. In today's world, blue-violet light is everywhere, digital screens, TVs, fluorescent, and LED lights. And unlike invisible UV radiation, exposure to blue-violet light can affect your eyes and your health.
Blue-violet light can hurt people of all ages. This harmful light may contribute to photochemical damage to the retina and macular degeneration. And using digital devices at night can cause sleep disturbances. Increasingly, health professionals recommend protecting your eyes from excessive blue-violet light exposure. DuraVision BlueProtect provides that protection.
DuraVision BlueProtect is specifically designed for people who spend their time in front of the computer, TV, or tablet or are frequently exposed to LED or CFL lighting. The light filtering system blocks most of the harmful blue-violet light while beneficial light waves that regulate circadian rhythm can pass through. DuraVision BlueProtect incorporates leading-edge, anti-reflective, and scratch-resistance technology from ZEISS for maximum durability, proving clarity and proving long-lasting cleanability. Protect yourself from lasting damage from blue-violet light. Ask your eye-care professional today about ZEISS DuraVision BlueProtect.    
Though the blue light occurs naturally in the daylight, it also comes out from our computer and phone screens. This light, which ranges between 380 to 500 nanometers, is very harmful. It leads to headaches, migraines, eye strain, muscular degeneration, etc. It's scientifically proven that blue light has also shown to cause insomnia and other sleeping disorders.
We are all addicted to screens; it may be our smartphone screens or our laptop screens. A student to an office employee, everyone sits in front of computers or peeks into their phones either for entertainment or to complete their work.
There is a considerable need for glasses, which can minimize the side effects of blue light. Hence, remarkable progress is seen for using blue light filter glasses. There are many glasses available in the market which can block 90% or more light, which involves color distortion. To avoid color distortion, you can buy the lenses which block 40 to 50 %, but they fail to minimize the harmful effects of blue light.
Here is the list of the Best Blue Light Filter glasses/ Best Blue Light Blocking Glasses which you need the most to say goodbye to those life-consuming headaches caused by blue light.
Recommended: How To Stay Motivated (Even When You Don't Feel Like It).
Recommended: Tips for Healthy Living: 7 Things to Remember.
1.

J+S Vision Blue Light Glasses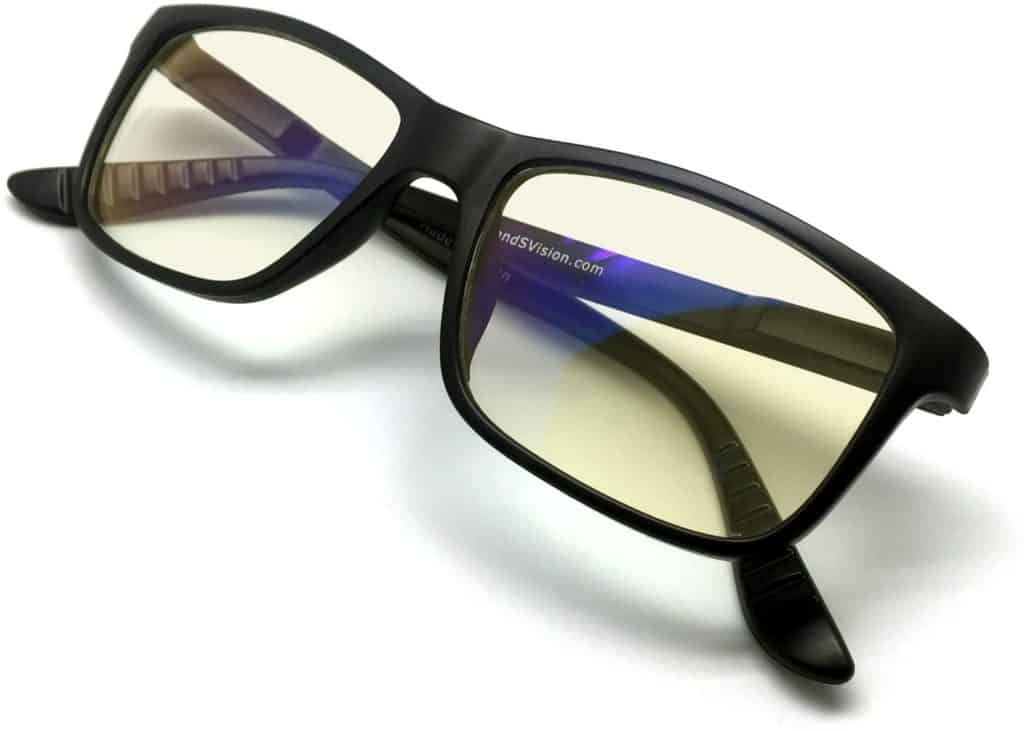 If you wish to protect your eyes by adding some style to the glasses, then J+S is for you. J+S offers you an excellent variety of shape and finish in blue light filter glasses. You can select from clear, glossy black, tortoiseshell, good, classy, and stylish options. These glasses come in both low and high definitions and block up to 90% of harmful blue light.
You can also buy the glasses with low definition lenses to avoid much color distortion as these glasses will block 70% of harmful blue light, and you will have to compromise on the viewing quality. The high definition lenses block 90% of blue light, which leads to more color distortion. With J+S Vision glasses, you can select from the variety of lenses with the latest styles and trends.
PROTECT YOUR EYES – High Energy Blue Light emitted by electronic devices (such as computers, TV, smartphones) have shown to increase the risk of vision conditions from sore dry eyes to macular degeneration. Maintain healthy eyes by reducing exposure to high energy blue light.
IMPROVE PERFORMANCE AND PRODUCTIVITY – Extended exposure to blue light rays may cause fatigue and stress. Filtering out the High Energy Blue Light allows you to focus on your game or task at hand.
BLOCKS 90% OF THE MOST HARMFUL BLUE LIGHT* – J+S Vision Blue Light Shield protects your eyes by filtering out 90% of the most harmful High Energy Blue Light (400nm – 430nm) rays while letting through the less harmful portion of the blue light spectrum. Overal blue block rate: Low Color Distortion lens = ~52%, HD lens = ~62%
LOW COLOR DISTORTION LENS – Unlike other glasses on the market with heavily tinted lens. J+S Vision's low color distortion lens is optimised to provides the perfect balance between eye protection and viewing quality.
QUALITY CLASSIC FRAME – The classic wayfarer style frame in black is suitable for both male and female while covering large field of vision. Spring loaded temples allows for comfortable fitting for both large and small heads.
2.

Duco Blue Light Blocking Glasses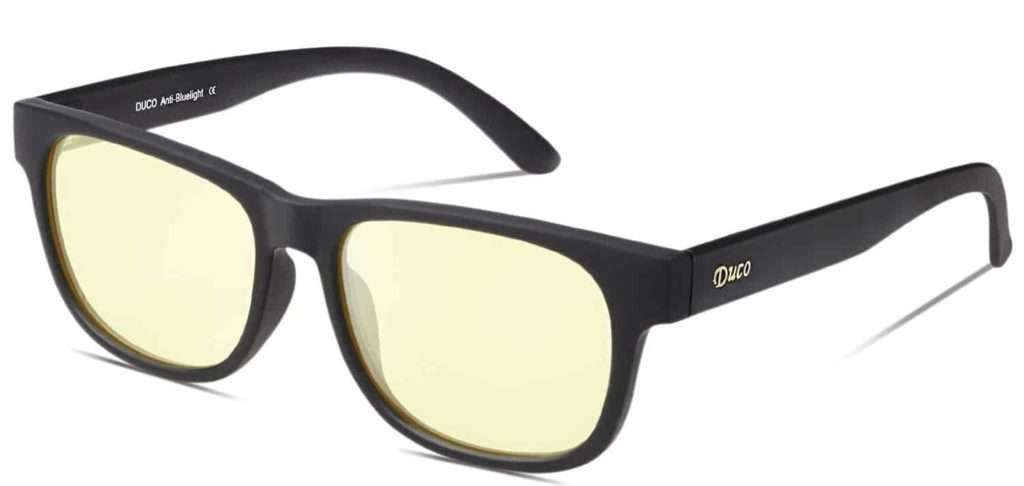 If you are a gaming lover, then you know that gaming for too long leads to eye strain. This happens because of long-time exposure to blue light of the screen. Gamers need to buy glasses that can effectively block 90% of blue light. Duco Blue Light Blocking Glasses is the best option for you. These glasses block 90% of blue light in addition to providing UV 400 and anti-glare protection. The temples of these glasses are slim and light, which prevents unwanted pressure from ears.
LIBERATE YOUR EYES WITH DUCO LENSES!
Wear DUCO lenses to protect your eyes, block harmful blue light, effectively relieve your eyes dry, soreness, fatigue, blurred vision, etc., so that you can feel comfortable and clear vision.
It blocks most of the high energy blue light (To provide maximum protection). Computer Glasses with amber tinted lenses could Cut 90% High-Energy Blue Light to minimize Digital Eye Strain caused by harmful blue light emitted from digital screens.
Classic unisex frame design, Comfortable sturdy frame, looking stylish while protecting your eyes (Spring-loaded temples ensures maximum comfort). Great for web browsing, playing video games, watching TV, or working under fluorescent office lights with UV400 protection and glare reduction.
RX-compatible frame so you can fit it at optometrist with a prescription lens. Flexible and lightweight TR90 frame material allows for extended use as reading glasses in front of all electronic devices Rx-able Rx Prescription Ready High-Quality Eyeglasses Frame
Gift style package including the box, glasses case, superfine pouch, cloth, and mini screwdriver.​
Don't hesitate,start protection your eyes today, say goodbye to eye strain and blue light.
3.

Eye Love Blue Blocking Glasses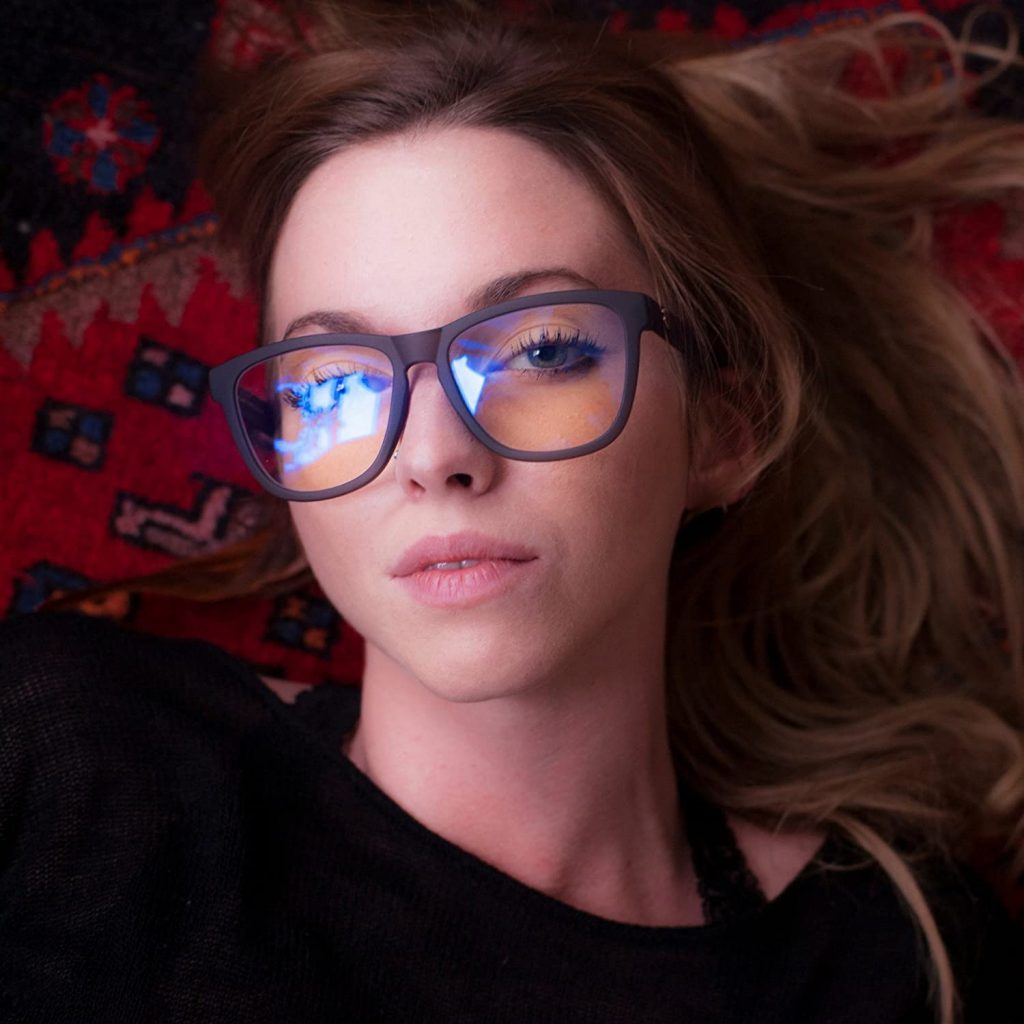 Eye Love Blue Blocking Glasses are the ones you can wear indoor as well as outdoor. Most of the blue light protection glasses protect you from the blue light of electronics, but these glasses will shield your eyes from blue light as well as harmful UV rays going into your eyes. These glasses are a two-in-one combo, and the most fantastic thing is that these glasses are affordable. You don't need to keep on changing them while going out or working on your desktop. They come with a classy and sporty look.
Blue-blocking, anti-reflective lenses prevent glare and blue light from entering your eyes
Prevent eye fatigue from working daily on a computer
Eliminate glare by transitioning to 100% UV blocking, gray sunglasses outdoors
Protect against crow's feet, cataracts, macular degeneration, and eye and skin cancer
Maximum comfort and durability with an ultra-lightweight, flexible frame
Unbreakable TR-90 frame ensures breakage prevention even for those tough on their glasses
For every product purchased, Eye Love donates to those who can neither afford nor obtain quality eye care
Feel great knowing you've joined the mission to end preventable blindness
4.

Uvex Skyper Blue Light Blocking Glasses
The goggles like Uvex Skyper Blue Light Blocking Glasses are affordable and serve their purpose exceptionally well. They may not be the most trendy or stylish but do wonders. Buyers have experienced how excellently these glasses helped them regulate their sleep or overcome their sleeping disorders caused by blue light. The lenses are styled in wraparound design to avoid maximum exposure to blue light. The blue light filter glasses absorb 98% of harmful blue light and reduce eye fatigue. The frame is comfortable and classy. It has a molded nose bridge and cushioned temples to give a sturdy and stunning look.
Orange Lens features Spectrum Control Technology (SCT) to absorb 98%+ of blue light emitted from laptops, computers, iPad, etc.
The result is additional screen contrast with sharpened details, which improves focus, reduces eye fatigue, and helps inhibit vision problems like cataracts and age-related macular degeneration
3-Position ratcheting lens inclination system and patented, adjustable-length Duoflex comfort cushioned temples for optimal screen viewing; molded-in nose bridge for long-wearing comfort
Wrap-around uni-lens design with integral side shields offers exceptional clarity; Uvextreme anti-fog coating; easy and economical lens replacement system
Meets the ANSI Z87+ standard and is certified to the requirements of the CSA Z94.3 standard; made in the U.S.A.
5.

Gamma Ray Blue Light Blocking Glasses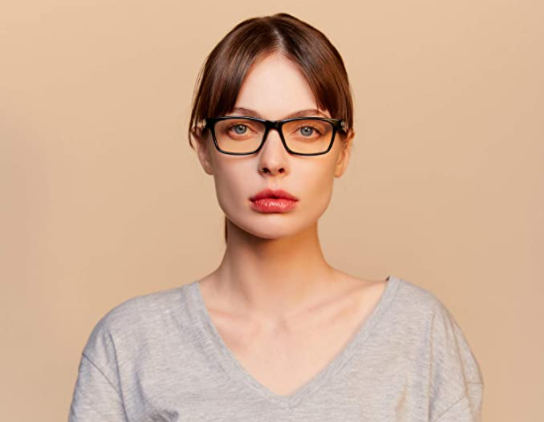 The first choice when it comes to blue light filter glasses is always the Gamma Ray. The complete combo of durability, functionality, and class is what Gamma RayGlassesare. They block almost 97% of blue light. You can choose from a variety of different frame sizes and shapes with Gamma Ray. They help you with the most trending ones. To make the reading of small prints easy, you can buy these glasses with magnification, which can easily fit with prescription lenses.
Anti-Reflective Lens

.
Computer Glasses with amber tinted lenses to minimize Digital Eye Strain caused by harmful blue light emitted from digital screens.
Alleviates visual fatigue and discomfort from long periods of web surfing, gaming, and working under fluorescent lights. These light sensitivity glasses also come with UV400 protection and glare reduction.
Ultra-lightweight and flexible TR90 nylon frame material for durability and comfortable long-term wear. Casual frame design keeps you looking professional and stylish while working or playing video games.